More coming daily here… a LOT more. This is the main content page of this site to help guide and inform you on how to exercise a better digital existence. Check back often as more content is added below.
However, before you begin, you need (great) coffee. I drink coffee from my friend and coffee roaster Alex at De Espresso Liber, try out their chaffee, you will not be disappointed.
*** Warning, may be habit forming ***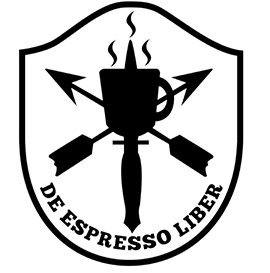 —
Free 97 page guide to begin your privacy journey:
Privacy and Information TOOLKIT 22.09 (A free guide available as PDF)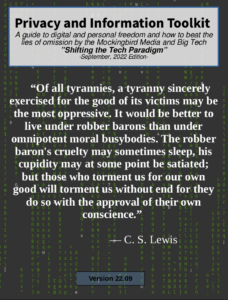 ————————-
Free Technical Guides:
2FA - Two Factor Authentication
Virtual Private Networks (VPN)
Privacy.com Virtual Credit Cards
——————————
Visit our News and Updates blog posts for the most up to date news and information.
——————————
Mockery is man's most potent weapon, check out our humor section for a good laugh, and memes to pester your friends with.
If you have any funny memes or other content related to FOSS, please send to: humor@graphenegoat.com, thank you!
——————————
Websites, Guides, Podcasts and Video Channels for more learning:
==================================================
Michael Bazzell – website, Privacy, Security and OSINT podcast, Undredacted Magazine
https://anonymousplanet.org/guide.html
Jeff.pro forum
https://techlore.tech/resources
https://github.com/techlore/go-incognito/blob/master/sources.md
https://darknetdiaries.com/stalkerware/
https://freedomtech.com.au/  – excellent resource for de-Googled phones if you live in Australia
https://linuxcommandlibrary.com/
https://forum.xda-developers.com/ (very technical site for custom phone ROMs)
https://www.geeksforgeeks.org/
Telegram Channels
==============================================================
Jeffrey_Peterson Telegram channel   ( t.me/jeffrey_peterson )
Bones Tech Garage Telegram channel (  t.me/BonesTechGarage )
Linuxgram Telegram Channel   ( t.me/linuxgram )
It's FOSS Telegram Channel   ( t.me/itsfoss_official )
Download Telegram app to view above channels, use FOSS version from F-Droid store on Android here:
Download Telegram (FOSS version)
Podcasts
==============================================================
Privacy, Security and OSINT (Michael Bazzell)
The Watchman Privacy podcast / book
Darknet Diaries podcast
Surveillance Report podcast (Techlore / The New Oil)
The New Oil podcast
Joshua Sheets / Radical Personal Finance podcast
Opt Out Privacy podcast (appears to have ended)
Ditch big tech podcast services and try out Antenna Pod app to listen to podcasts.
Download Antenna Pod using the F-Droid app store on your Android device:
Other podcasts for deep dive
==============================================================
Youtube/Odysee Video Channels
==============================================================
LearnLinuxTV channel
The Linux Experiment
Switched to Linux
If you would like to donate to help fund this site, and the research and effort behind it, click here for a one time, or recurring donation, thank you:
If you would like a receipt for your donation, please email us at receipt@graphenegoat.com, thank you