Goats will do goat things.
Like erase Google from a Pixel phone and install a Free and Open Source Software (FOSS) Operating System (or ROM, Read Only Memory) onto the device, specifically GrapheneOS. This is often referred to as a 'de-Googled phone' and while this is my favorite option, there are many others out there in use like CalyxOS, LineageOS and others. GrapheneOS developers have remained steadfast in keeping privacy and security as the first and foremost priority which is why I use it myself, and recommend it to others. If you've ever used an Android phone before, it is no different to operate as a user, it's just as easy to use.
While many refer to GrapheneOS as a 'privacy phone' it really is simply what a phone should be- a device where the user has full control. On standard Google Android and Apple iPhone you are using proprietary software that is closed source.
This means we cannot see everything that is happening, and Google and Apple can install software or gather info from any sensor at any time- even when the device is powered off. (Remember the good ole days where you could actually remove the battery to stop this possibility?) Take a look at the photo above and see the staggering amount of possibilities for information gathering-and monitoring-from just one of the many sensors on your device. How often do you get further than one room away from your phone? Most of us have them on our person nearly 24/7. You don't need a microchip if you're willing to keep a dedicated device with you at all times.
Now imagine what kind of things could be learned about you by using ALL of the sensors. WiFi, Bluetooth, NFC, GPS, cell tower triangulation, accelerometer, magnetometer, inclinometer, barometer, cameras, microphone, infrared light detection, fingerprints, and other metrics like IP address, a list of all of your email and phone contacts.
Did you know that your standard phone does WiFi scanning? This is the device 'looking' around constantly sniffing out WiFi signals and measuring their signal strength and direction, then plotting that physical geolocation onto Google or Apple's servers, creating a map of every WiFi access point in the world practically. When the UPS or FedEx driver drops off a package, their phone relays your WiFi router's location to Google or Apple.
While this may not sound like a big deal, it's also happening with Bluetooth sensors, real time tracking the device location, speed, the angle it is being held, what other phones are nearby and on and on. Even if you turn off your WiFi, Blutooth and put in Airplane Mode, the device is still capable of recording and sending all telemetry up to Big Brother… I mean, Google and Apple.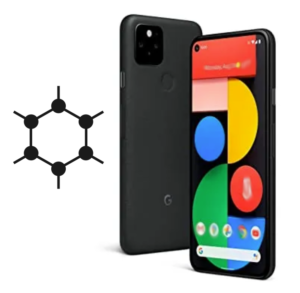 If you have any technical capability, you can install GrapheneOS yourself, for free; which I highly encourage you to do. Visit https://grapheneos.org and follow their instructions, I recommend using the Web Installer method over the CLI method for the average person. While I do not recommend CalyxOS, for those that still want it for one reason or another, CalyxOS is also quite easy to do via web installer here at https://calyxos.org/install/
GrapheneOS Install Instructions
For LineageOS, first see if your device is supported here: https://wiki.lineageos.org/devices/
If that is not in your wheelhouse, contact me and I can source a Pixel phone and install the software for you. Send a message and describe what model Pixel (click here to see a comparison of Pixel phone features by model) you would like GrapheneOS installed onto. We will reply with the most current prices and options for you to select, usually it takes about a week for you to receive your new device. Email us with the model you prefer, and any other details you need addressed such as specific apps, we will confirm cost/features prior to finalizing any purchase to ensure you get the phone, settings and apps that are right for you:
For those wanting to do the DIY method of installation of GrapheneOS, it is important to purchase a new or used Pixel device that is carrier unlocked, and has the capability to have the bootloader unlocked. (Recommend sticking with Google Pixel 5 and higher models, currently the Pixel 6 models are the most bang for your buck) Models to choose from:
Pixel 5, Pixel 5a
Pixel 6, Pixel 6a, Pixel 6 Pro
Pixel 7, Pixel 7 Pro
See if your phone can be flashed with GrapheneOS, this can be determined by gaining access to Developer Mode (in Settings, tap 'Build Number' 7+ times) then going to System>Developer Options, scroll down a short ways and look for a setting called 'OEM Unlock'. If the toggle button is grayed out, do not attempt to flash the phone. If looking online for a device and you cannot see for yourself, contact the seller to ensure this setting is enabled before purchasing. Here are the steps again to check any Pixel phone to see if OEM unlock is enabled:
Settings>About Phone – Tap 'Build Number' 7+ times to enter Dev Mode
Settings>System>Developer Mode, then scroll down to 'OEM Unlock'
I generally buy only used phones in good or mint condition, since we are wiping the entire device, a used phone is acceptable. We only pick those that are in near mint or mint condition from trusted sellers who verify IMEI numbers and send fresh factory reset devices to us.
** Currently we have Pixel models 6, 6 Pro, 7 and 7 Pro phones in stock ready to ship with GrapheneOS installed along with some common apps. Ready to ship. Email us with phone model and mailing address:
Phones in stock (all are 128GB storage and black/obsidian color)
Pixel 6: $450
Pixel 6a: $450
Pixel 6 Pro: $650
Pixel 7: $720
Pixel 7 Pro: $800
---
We also have a great supplier with a large number of Pixel 4a, 5, 6 and 7 GrapheneOS phones in stock, visit https://mark37.com and check out their Ghost phone, this is a GrapheneOS device ready to ship now. Faraday bags are also now available for purchase. 
Use PROMO CODE:   DHAC10  to receive a 10% discount on your GrapheneOS Ghost phone 
Yes, they really are tracking your devices, and it's way worse than you thought:
Here is a good summary of the methods used to capture your phone's location using the various sensors and technology:
Cell tower triangulation
Bluetooth radio
WiFi radio
GPS using satellite
IP Address
IMSI catchers (Stingray towers)
Apps on the device report location
——————————–
What it's like to use a DeGoogled phone in a 20 minute video. Great explanation of a DeGoogled device if you are using Android or iPhone:
Here is a good Q&A session and another interview discussing GrapheneOS phones:
Important to keep in mind; you don't have to 'disappear' and become a digital ghost, you can simply adopt GrapheneOS as your daily driver phone with your current identity. The main advantage we gain is simply to reduce the data collection/telemetry that is happening on regular phones. By using GrapheneOS, we take a huge leap forward in privacy, without worrying about trying to 'go dark' or hide your identity.
Just turn off the spigot of data flow to big tech using a FOSS phone where you are in control. View it simply as getting a new device like you do periodically anyway, with all of your current accounts and needs still able to be used, just in a much more privacy respecting way. At the end of the day, this is just an Android phone, there is nothing to fear about using this non-mainstream phone.
Here's an excellent clip of Adam Curry on the Joe Rogan Experience discussing GrapheneOS and the current state we find ourselves in:
You can also visit a new forum that recently launched, to find answers to any problems you encounter after receiving your GrapheneOS phone. There is also great information to know about the phones there as well, become part of the community here: https://forums.mark37.com/
**
How do I install apps on my GrapheneOS phone?
Visit our Apps Page to learn more

**
For updates on happenings with GrapheneOS, check their Twitter page: https://twitter.com/GrapheneOS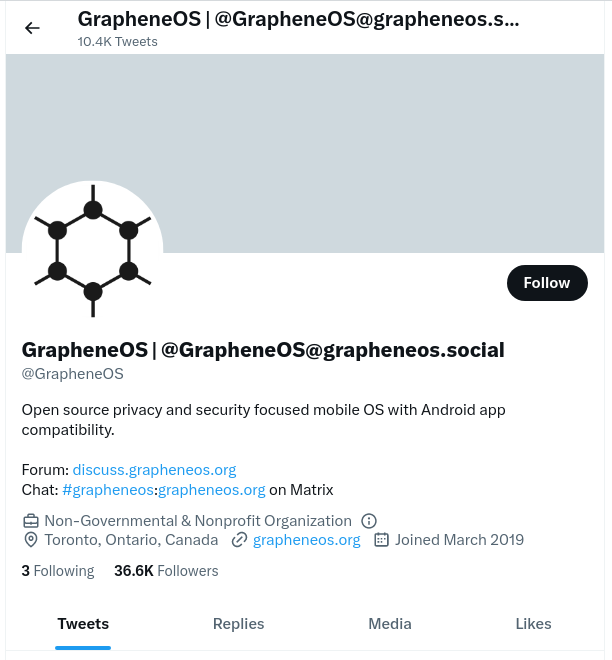 To view their Twitter indirectly, set up RSS feed or use Nitter version instead for more privacy: https://nitter.net/GrapheneOS
—
by GrapheneGoat, for customers who purchased a phone (password required) This guide will walk you through each step to quickly get your device up and running with the proper settings and basic apps, and walk you through the basics to make your new device more effective.
—
Quickly configure NextDNS as your DNS host (10 minute project) to greatly improve how your GrapheneOS device handles web traffic. NextDNS filters out much of the tracking and even malicious connections, before it even hits your device. Read about how to accomplish this quickly here:
More content to come shortly, I'm off to do more goat things… in the meantime, visit our Resources and Links page to view our other tech guides:
Resources and Links - Main Page
Here's some articles to check out to learn more about your phone and the technology in use:
Google is a cancer, read this to learn why
About those Patriot Phones – CognitiveCarbon's Content
A primer on mobile privacy and security
WiFi is exposing your location to Big Tech and data brokers. Here's how to protect yourself.
Privacy Tech-Know Blog_ Uniquely You_ The identifiers on our phones that are used to track us – Office of the Privacy Commissioner of Canad